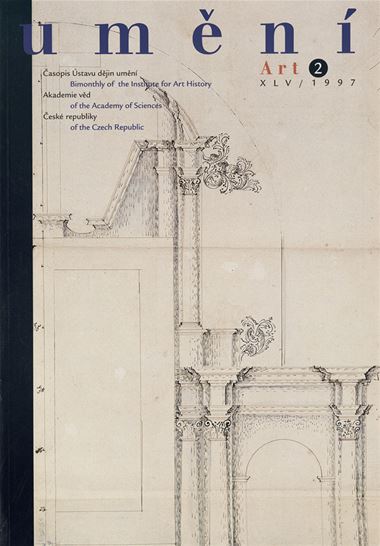 2/1997
Articles
Jaromír Homolka
Poznámky ke karlštejnským malbám
On the paintings at Karlštejn
pp. 122-140 (English summary)
Ivo Hlobil
Heinrich IV. Parler und der Parlier Henrich
The Construction Accounts of the St Vitus Cathedral in Prague Show Heinrich "Parlier", not Heinrich Parler.
pp. 141-152 (Czech summary)
Jan Chlíbec
Ukřižovaný neznámé provenience a jeho vztah k tvorbě Mistra Týnské kalvárie
A Crucifixion of unknown provenance and its relationship with the work of the Master of Týn Calvary
pp. 153-160 (English summary)
Beket Bukovinská
Florenz - Prag oder Prag - Florenz?
Florence-Prague or Prague-Florence?
pp. 161-170 (Czech summary)
Venceslava Raidl
Die Illustrationen der Metamorphosen Ovids in Venedig des 16. Jh. aus der Wiener Albertina
Illustrations of Ovid's Metamorphoses in 16th Century Venice from the Albertina Collection in Vienna
pp. 171-185 (Czech summary)
Petra Nevímová
Ikonografický program původní výzdoby jezuitského kostela sv. Ignáce v Praze na Novém Městě
The iconographic scheme of original decorations in the Jesuit church of St Ignatius in Prague's New Town
pp. 186-201 (English summary)
Ivo Kořán
Santini a Brokof na Zderaze
Santini and Brokof in Zderaz
pp. 202-208 (German summary)
Questionnaire
Questionnaire
pp. 209-210
News
Vlasta Dvořáková
Impromptu pro Evu Šamánkovou
An Impromptu for Eva Šamánková
pp. 211-212
Jan Sommer - Lubomír Sršeň
Bibliografie Evy Šamánkové z let 1947-1994
Bibliography of Eva Šamánková from 1947-1994
pp. 212-215
Reviews
Milan Togner
Ivo Krsek - Zdeněk Kudělka - Miloš Stehlík - Josef Válka, Umění baroka na Moravě a ve Slezsku
pp. 215-217
Ivo Kořán
Ivo Krsek - Zdeněk Kudělka - Miloš Stehlík - Josef Válka, Umění baroka na Moravě a ve Slezsku
pp. 217-218
Milan Žďárský
Malířství 15.-18. století z moravských sbírek
pp. 519-520
Jan Royt
Světice s knihou
pp. 220-221
Zuzana Všetečková
Příběh gotické šablony
pp. 221-223
Jan M. Tomeš
Antonín Chittussi
pp. 223-225
Mahulena Nešlehová
Zbyněk Sekal
pp. 225-227
Jindřich Vybíral
Architektura nové doby v Uměleckých památkách Prahy
pp. 228-229
New Additions to Literature on Art History
pp. 230-231